In English there are five pure vowels: 'a', 'e', 'i', 'o' and 'u'. There are also many combination vowels, like 'ea' in the word wheat, 'oi' in the word noise, and 'ou' in house. The word Canada illustrates a major problem in learning to pronounce English. The same letter, in this case 'a', can have more than one pronunciation. But happily, in Korean each vowel symbol always represents the same sound. So once you've learnt the symbols, you will always know how to pronounce the correct sound.
There are nine pure vowels:
The last two pure vowels are harder to pronounce as there are no direct equivalents in English. They are :
The sound of the word 'e' in the 'th

e

'

is close to this vowel.

This is the hardest to get right. It is somewhere between the 'o' in h

o

pe and the 'or' in h

o

r

de. The sound comes from the front of the mouth with your lips forming a circle.
***Note 1 : All vowel symbols are formed by combining the following three basic elements: '·' depicts heaven; 'ㅡ' depicts earth; and 'ㅣ' depicts humankind.
Mouth position of vowels
As you can see from the diagram below, the vowels in Korean depend on how open the mouth is when pronounced and whether the sound is produced from the front of the mouth or the back near the throat. Therefore, it is hard to distinguish between 에 and 애 as they are both pronounced from a similar mouth position with only a very slight difference in the opening of the mouth.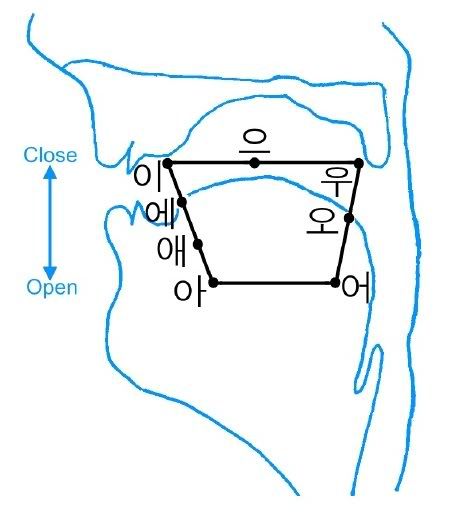 ***Note 2 : It is customary for vowels to be preceded by the dummy consonant 'ㅇ' when they stand independently: 아, 애, 어, 에, 우, 이, 외, 으 and 오.
Now practise writing them with the dummy consonant 'ㅇ' stroke by stroke:
Want a better view? Download this note :